Home | About Us | Facilities | Training | Breeding | Sales | Gallery | Shows | Contact Us





FELIX
2006 Thoroughbred Gelding

Felix came to us in January of 2010. He was severely underweight and was in dire need of help. He came off the track with bowed tendons, very little muscle mass and no attention what so ever. While re-couping from the track he wasn't fed enough and when the winter months hit he dropped weight quickly. When we found him he was dirty, had very little food and was in a paddock with no shelter in the bad weather. He was very sweet, came right off his food and allowed me to inspect him and check him up and down. As a just come 4yr old stallion he was level headed, calm and fairly relaxed. After we were done looking at him he calmly went back to his food and continued eating. He needed help.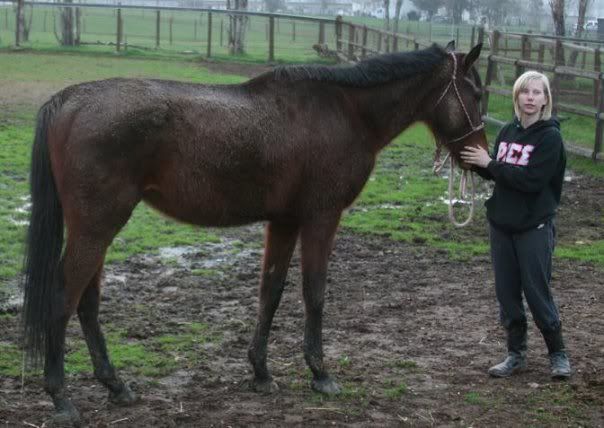 Following a short discussion of Felix's needs and future we decided that we could help him. We went back and picked him up the next day. That same day we picked him up a new halter, a nice, heavy winter blanket, 400lbs of Sr Stable Mix to pack on the weight. We took pictures as soon as he was home to document his progression.




After only a few weeks Felix began to pick up. He started gaining weight and withing a month he was able to be put under saddle for first time since the day he came off the track nearly 6 months prior. He never offered to buck or kick. He never ran off with his rider. It took a while to get an appointment with the vet, but in April 2010 he was gelded. Unfortunately he suffered some minor complications after his gelding which set us back slightly weight wise, but after some medication and a good month of stall rest he recovered fully. After another month of heavy feeding he came back up into weight. Shortly there after he went out on trial to his future new home. Because of his bowed tendons and some medical issues we ended up adopting him out knowing that he would be very well taken care of and any money that would have been spent on his sale would instead go into his future needs. Felix is now in tip-top shape and enjoying life. He's grown to a massive 17.1hds and is still growing out to his full potential. This wonderful, kind hearted horse has found his forever home and we are VERY pleased and so happy that we could help him when he needed it most.
Congratulations Kate Verigin on your adoption of Felix!

**Click the thumbnail to see the full sized picture**